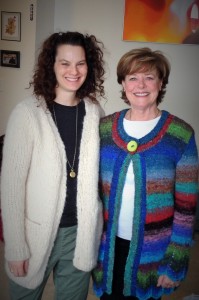 I offer a variety of knitting classes for adults and children; descriptions of each are below.
ADULT KNITTING CLASSES
CLINICS
Weekly sessions to get help with your current project.  This small, informal clinic allows you to work at your own pace, get helpful advice, learn new skills, and share with other knitters.  A great way to finish that project you put in your closet! During many of the clinics, I'll showcase a knitting technique.  For example, one week we might cover types of knitted ruffles; another week I'll demonstrate a new cast-on method.  Days of the week that clinics are offered vary each week but typically include one morning and one evening.  Cost for the 2-hour clinic is $15.
Toph Hat – 2 classes on Sunday, January 23 and February 6 from 1-3pm, taught in person
The Toph Hat, designed by Woolly Wormhead, is a lovely 2 color hat pattern that uses short rows in its design.. In this class, you will learn how to work a provisional cast on, German short rows, and grafting garter stitch. Ability to knit, purl, cast on/off required.
CLASSES THROUGH LOCAL ADULT EDUCATION PROGRAMS
(Lincoln Sudbury, Acton Boxborough, Lexington)
2 at a Time Socks –  2 classes on Monday, January 24 and February 7 from 7-9pm; taught over Zoom
Learn how to knit socks two-at-a-time in the round using either 2 circular needles or magic loop.  I will guide you using the two-at-a-time technique, casting on the toes and how to work both socks at once.  Students will knit the sock feet on their own.  We will come back together to learn how to turn the heel and options for a stretchy cuff. Ability to knit, purl, cast on/off required.
Beyond Beginning Knitting – 3 class meetings, starting on Thursday, 2/24 through 3/10, taught in person
You already know how to cast on stitches and knit.  Now what?  Take your knitting to the next level in this 3-part class. We'll focus on learning new stitch patterns while making a lovely "Texture scarf".  Individuals will go at their own pace, learning how to read patterns, with the opportunity to learn up to 15 different stitch patterns that comprise the scarf.  This class is perfect for anyone who has learned the basics, regardless of when.
Private classes and parent-child classes are available.  Contact info@knitsandthat.com or call 978-758-3756 for more information.