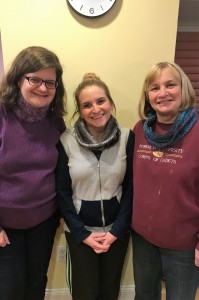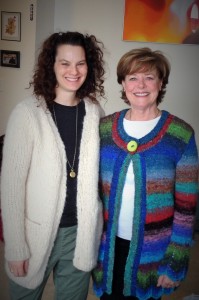 I offer a variety of knitting classes for adults and children; descriptions of each are below.
ADULT KNITTING CLASSES
CLINICS
Weekly sessions to get help with your current project.  This small, informal clinic allows you to work at your own pace, get helpful advice, learn new skills, and share with other knitters.  A great way to finish that project you put in your closet! During many of the clinics, I'll showcase a knitting technique.  For example, one week we might cover types of knitted ruffles; another week I'll demonstrate a new cast-on method.  Days of the week that clinics are offered vary each week but typically include one morning and one evening.  Cost for the 2-hour clinic is $15.
CLASSES THROUGH LOCAL ADULT EDUCATION PROGRAMS 
(Lincoln Sudbury, Acton Boxborough, Carlisle Recreation) (all classes meet from 7-9pm unless specified below)
Beginning Knitting – 4 class meetings Thursdays, 9/22 through 10/13. First class meets IN PERSON in Carlisle and classes 2-4 will be held ONLINE.
Learn to knit while making a lovely hat or cowl in this 4-week class.  You will learn how to knit and purl, cast on and off, as well as finishing techniques.  If time permits, you could knit both the items!
Fixing Mistakes – 1 class meeting on Saturday, 10/1 from 9:30-12noon held IN PERSON in Acton
The ability to fix mistakes in knitting is empowering.  This class is perfect for those who know the basics of knitting and purling.  In this 2.5 hour class you'll learn basic fixes, how to recognize problems early, and gain a better understanding of stitch construction.  In addition, we'll spend time learning how to fix some simple lace stitches.  
Knitting for kids (entering Grade 2 and up) – 4 class meetings Mondays 10/3 through 11/7 (no class 10/10 and 10/31) from 4:30-6pm.  All classes meet IN PERSON in Carlisle
Looking for a great way to keep busy AND learn something new?  Knitting is a wonderfully satisfying hobby that encourages creativity and relaxation.  This program is perfect for beginners as well as for those children looking to advance their skills.  You will learn the basics of knitting (knit/purl stitch, casting on or off, increases/decreases) while making a stuffed animal. 
Thrummed mittens – 2 class meetings, Wednesdays 10/19 and 10/26 held IN PERSON in Acton
Thrummed mittens are magically warm, lined with tufts of wool that keep your hands warm, even on the coldest winter day.  Diane will show how to add thrums to mittens to give them that warm and woolly-like lining.  We'll cast on and learn the basics of knitting with thrums and make simple mittens in this two-night workshop.  
CustomFit Sweater – 4 class meetings Thursdays, 10/27 through 12/1 (no class 11/10 and 11/24) First class meets IN PERSON in Sudbury and classes 2-4 will be held ONLINE.
In this class, Diane will help you knit a great-fitting sweater using Amy Herzog's CustomFit program.  Learn to knit a sweater that fits YOUR measurements and YOUR gauge!  She'll start with an overview of Amy Herzog's "Knit to Flatter", provide expertise in selecting yarn/knitting the right swatch, and then help you choose a CustomFit sweater.  Then it's on to knitting details – the best cast-on/off for your project, shaping, picking up stitches, seaming, blocking techniques.
PRIVATE INSTRUCTION
Private classes and parent-child classes are available.  Contact info@knitsandthat.com or call 978-758-3756 for more information.