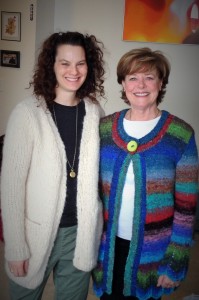 I offer a variety of knitting classes for adults and children; descriptions of each are below.
ADULT KNITTING CLASSES
CLINICS
Weekly sessions to get help with your current project.  This small, informal clinic allows you to work at your own pace, get helpful advice, learn new skills, and share with other knitters.  A great way to finish that project you put in your closet! During each clinic, I'll showcase a knitting technique.  For example, one week we might cover types of knitted ruffles; another week I'll demonstrate a new cast-on method.
Days of the week that clinics are offered vary each week but typically include one morning and one evening.  Cost for the 2-hour clinic is $15.
CustomFit – 1 class meeting on Saturday, March 31; $25
Learn In that class, I will take each student's measurements and help with the design of your sweater.  This can be a single class meeting for those of you who like to meet just once.  The cost is $25. If you plan on the single class, you'll need to have your sweater yarn selected and a swatch knit for the class.
CustomFit continued – if you would like to continue, we will arrange a schedule to meet 3 additional times.  In those classes, I will help you produce your pattern, talk about yarn choices, measure swatches.  I will help with sweater construction and provide hands-on guidance throughout the knitting process.  You will learn finishing techniques that are necessary for a successful sweater.  If you take the 4-week class (includes our first meeting), the total cost is $60.
Email info@knitsandthat.com for more information.
ACTON BOXBOROUGH ADULT EDUCATION
Beginning Knitting – 4 classes beginning Tuesday evening, April 24; $67
Do you want to learn to knit but don't have a lot of time?  Then this class is perfect for you.  Join me to learn this timeless craft.  During the 4 weeks, you'll learn the basics of knitting (knit stitch, purl stitch, casting on and off) while making a versatile market bag or lovely hat.  If time permits, you could knit both.  
Japanese Free Lace Scarf - 1 class on Saturday morning, April 28; $45
Free lace scarves are made by laying fibers (many of which are used to knit with) on a water-soluble adhesive "paper" and then sewn on a sewing machine.  You will learn how these scarves are made and have the opportunity to complete one during class.  Ribbon and other decorative yarns will be provided.  Students should bring any additional yarn they would like to use. Note that these scarves require some sewing after class is completed; instruction/demonstration will be provided. Please note: a materials fee of $15 is payable at the class.
PRIVATE INSTRUCTION
Private classes and parent-child classes are available.  Contact info@knitsandthat.com or call 978-758-3756 for more information.
SCOUTING – KNITTING WORKSHOPS
For Brownies, Jr. Girl Scouts, and Girl Scouts.  This workshop will enable your troop to get their knitting badge or part of the Craft or Yarn/Fabric Arts badges.  All materials (yarn, knitting needles, pattern) are included.  Note that a minimum of 6 girls is required. Two options are available:
Option 1: we'll meet for a single 2-hour session.  During that time, Diane will teach the kids the basics of knitting – cast on, cast off, knit stitch.  $20 per child.
Option 2: We'll meet twice for 1.5 hours each.  During the first meeting, we'll focus on the basics of knitting and casting on, while making a small beanbag.  All the kids will leave with their project started.  At the second meeting, we'll review everyone's progress, learn casting off, and the sewing/finish work needed.  $28 per child.