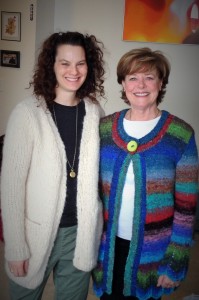 I offer a variety of knitting classes for adults and children; descriptions of each are below.
ADULT KNITTING CLASSES
CLINICS
Weekly sessions to get help with your current project.  This small, informal clinic allows you to work at your own pace, get helpful advice, learn new skills, and share with other knitters.  A great way to finish that project you put in your closet! During each clinic, I'll showcase a knitting technique.  For example, one week we might cover types of knitted ruffles; another week I'll demonstrate a new cast-on method.
Days of the week that clinics are offered vary each week but typically include one morning and one evening.  Cost for the 2-hour clinic is $15.
LINCOLN SUDBURY ADULT EDUCATION
Beginning Knitting - 4 classes begins Thursday, October 25 from 7-9pm; $70
Fall and winter are the perfect times to learn to knit! This 4-week class will teach the basics of knitting (knit/purl stitch, casting on & off) while making a lovely hat or cowl for yourself or to give as a gift!  If time permits, you could knit both.
Knit an Easy Baby Sweater – 6 classes begins Wednesday, October 3 from 3:30-5:30pm; $99
This 6-week class is the perfect class for students who would like to advance their knitting skills.  You will have the choice of making a simple sweater or one with detailed cabling. Students will learn shaping techniques, how to pick up stitches for the collar, and the best finishing techniques to complete the sweater.  Students should have basic knitting skills.
ACTON BOXBOROUGH ADULT EDUCATION
Beginning Knitting
– 4 classes begins Tuesday, September 25 from 7-9pm; $67/$57 for senior citizens
Do you want to learn to knit but don't have a lot of time?  Then this class is perfect for you.  Join Diane Johnson to learn this timeless craft.  During the 4 weeks, she will teach you the basics of knitting (knit stitch, purl stitch, casting on and off) while making a lovely hat or cowl.  If time permits, you could knit both. NOTE: no class on Tuesday, October 9.
Japanese Free Lace Scarf – 1 class meeting on Saturday, October 20 from 1-3:30pm; $40/$35 for senior citizens
Free lace scarves are made by laying fibers (many of which are used to knit with) on a water-soluble adhesive "paper" and then sewn on a sewing machine.  You will learn how these scarves are made and have the opportunity to complete one during class. Ribbon and other decorative yarns will be provided. Students should bring any additional yarn they would like to use. Note that these scarves require sewing after class is completed; instruction/demonstration will be provided.  $15 materials fee payable to instructor during the class
Let's Knit Hedgehog Mittens – 3 classes begins Monday, October 29 from 7-9pm; $50/$43 for senior citizens
In this 3-part class, you will learn how to knit a festive pair of "hedgehog" mittens for either for an adult or child.  These mittens make a great Holiday gift!  In this class, you'll learn how to knit using the magic loop technique.  In addition, you'll learn how to knit the thumbs and thumb gussets and simple embroidery techniques to finish the hedgehog's face.  Beginning knitting experience is required.

PRIVATE INSTRUCTION
Private classes and parent-child classes are available.  Contact info@knitsandthat.com or call 978-758-3756 for more information.
SCOUTING – KNITTING WORKSHOPS
For Brownies, Jr. Girl Scouts, and Girl Scouts.  This workshop will enable your troop to get their knitting badge or part of the Craft or Yarn/Fabric Arts badges.  All materials (yarn, knitting needles, pattern) are included.  Note that a minimum of 6 girls is required. Two options are available:
Option 1: we'll meet for a single 2-hour session.  During that time, Diane will teach the kids the basics of knitting – cast on, cast off, knit stitch.  $20 per child.
Option 2: We'll meet twice for 1.5 hours each.  During the first meeting, we'll focus on the basics of knitting and casting on, while making a small beanbag.  All the kids will leave with their project started.  At the second meeting, we'll review everyone's progress, learn casting off, and the sewing/finish work needed.  $28 per child.