As many know, I've been teaching children and adults knitting for quite some time.  During the children's classes, they often choose stuffed animals to knit.  When some of my adult students saw them, they wanted to make them as well.  In response, I've added a 3-part class to knit stuffed animals in October.  Below are some pictures of each along with some skills that you'll learn.  Note that any of these stuffed animals can be felted (you'll see some examples below).  I've highlighted some of the patterns to choose from but there are others as well!  Go to www.knitsandthat.com/classes for more details about the class.
What a fun turtle to knit!  This pattern, written by Sarah Kupillas, is a relatively easy project worked in the round on double-pointed needles or using magic loop. You'll learn simple decreases, seaming, and embroidering the turtle's face.
I love this furry hedgehog (pattern from Blue's Creations).  When felted, the eyelash yarn really shows off!  This is an easy project; you'll learn short rows, seaming and embroidering it's face.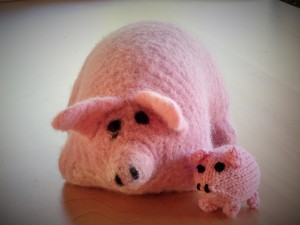 Two pigs to choose from, both easy but with lots of shaping techniques to learn.  In the photo, the large pig (pattern from Kraemer) was felted, the small one (pattern from A. Gehringer) wasn't.  These pigs are great for practicing your finishing techniques!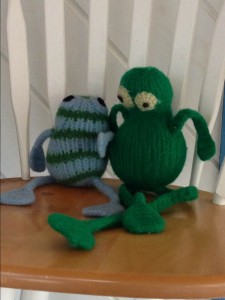 Two sizes of frogs to knit, which I felted. (I wrote these patterns, incorporating features from other patterns I liked.)  They are easy to work up, a great beginner project.  In addition to the skills from the projects listed above, you'll learn basic crocheting for the eyes.
This lovable teddy bear (pattern from Berroco) is challenging to knit, mostly because of the furry yarn it uses. Lots of fun to knit though; you'll learn short rows used for the snout, feet, and backside.

This flamingo (pattern written by Susan B. Anderson) is the perfect project for intermediate students to learn new skills.  They include short rows (to shape it's beak), knitting in the round, invisible cast-on (Judy's Magic Cast-on), and the picot bind-off.
This sheep is a fun, yet challenging knitting project, with lots of small details. I combined features from two patterns (one written by Elaine Simper and the other by Paton)  to make it a straightforward project but one that incorporates the loop stitch.